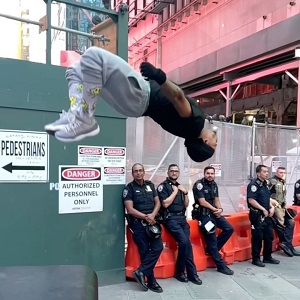 Kiing Spiider is making his name as hip hop's first true stuntman
Hip-Hop has cultivated so many subgenres and new ways of sharing music and we are in an innovative era full of new ways of producing content. Popular musical acts such as Jim Jones and Maino, Ron Suno, Lady Gaga, and Method Man all understand how important is it to create a buzz for their careers.
Grabbing social media influencers and public figures for your music video is not new but is now the key to social awareness to push your brand forward. If you ever noticed in the streets of New York City and spotted a man wearing a Spider-Man costume then you have come across the viral sensation "Kiing Spiider" aka real-life Spider-Man of New York City.
Kiing Spiider is prominent for his courage to climb very high such as over 20-50 feet, jumping from train track to train track, and flipping around Times Square showcasing his agility. Nonetheless, he gained inspiration from martial arts actor Jackie Chan. Kiing Spiider has increased his talent every year and is not the urban leader of Parkour Free Running a mixed acrobatic sport for speed.
Kiing Spiider is making his name as hip hop's first true stuntman