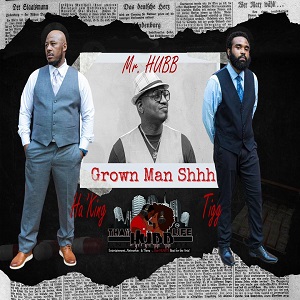 Mr Hubb returns with single Grown Man Shhh
Mr. Hubb is a man on the New Jersey scene that is making it happen. While he does make music, it is unfair to simply call Mr. Hubb a rapper. In addition, Mr. Hubb is a leader within the communities of New Jersey. Among his work is activism and mental health awareness.
Mr. Hubb has a big voice, a large platform, and plenty of resources. As a result, he gets his messages out in more ways than one. Music is an avenue that Mr. Hubb is using to get his message across. Social media is filled with people arguing over the typical men vs. women debates.
Mr. Hubb has noticed the ongoing debates over men vs. women roles, among other things, on social media. With that being said, Mr. Hubb decided to show people the way. Recently, Mr. Hubb announced his single, "Grown Man Shhh," where he sets the record straight by showing instead of telling. A grown man, himself, he is showing himself off in a three piece suit, giving the young men the game.
Mr. Hubb has taken it upon himself to become a leader in the Newark community. Tomorrow, he officially drops his single, "Grown Man Shhh," featuring Ha'King and Tigg. In addition, Mr. Hubb is the CEO of The HUBB Arts and Trauma Center. Through this facility, he helps youth who have mental health issues. As far as entertainment goes, Mr. Hubb has launched his socially responsible entertainment company, ThatHubbLife Ent.
Mr Hubb returns with single Grown Man Shhh