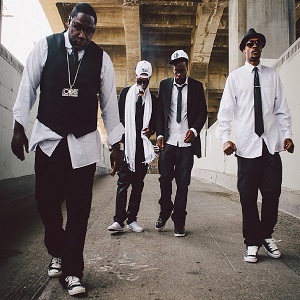 By Stranga The Great
Hip Hop Vibe Staff Writer
It's been ten years since the "hip hop is dead" movement, spearheaded by Nas. In the time since then, rappers have shifted blame and newer critics have said hip hop only suffered a heart attack. Well, Crooked I, now going by KXNG Crooked, is changing things with his crew.
Known as a part of Slaughterhouse, Crooked now delivers Horseshoe Gang, which happens to be his own family. Filled with lyricists, the crew is ready for war. Taking on the entire game, Horseshoe Gang got into a situation with Funk Volume, not terribly long ago.
Horseshoe Gang recently gave us an interview and he spoke on several situations. The brothers, sans KXNG Crooked, gave Hip Hop Vibe an exclusive, where they addressed Funk Volume and all is now well, Crooked's guidance, and much more.
Read the entire interview below:
Growing up were any of you more influenced by West Coast hip hop or did the East Coast sound attract you more? Growing up, our elder bros, Mad Man and KXNG Crooked, had us listening to a nice balance of both West and East Coast hip hop. Rakim, N.W.A, Kool G Rap, Ice T. So, we respect both Coasts, equally, but over time we gravitated more toward the West Coast sound.
What's the Horseshoe Gang history, you're obviously brothers, so when and how did you become a group? Our mother is a singer, and she had us in studio sessions as babies while she was recording. So our family has music in our blood. Our elder bros used to be in a rap group and we spent years trying to prove to them that we were just as serious as they were about being rappers. Once they started to take us serious, they took us under their wings. We became a rap group early, before Kris Kross. We were born in the booth, literally. The recording booth served as the delivery room. No need to fact check that last part (laughs).
Can you tell us what it's like having such a great mentor-ship with Crooked? Dope! Imagine being a young rapper, and having Eminem, 2Pac, or Rakim living in the same apartment with you. That's how it felt for us to grow up with a supreme lyricist like KXNG Crooked. He gave us a lot of useful tools. Our songs "Crooked I Robot" and "Crook Class" convey how important his influence was.
I've been following the movement for some years now and being a fan I want to know how each of you feels about the current success of the group?
Blessed! – Julius
We feel like our grind is finally starting to pay off. – Demetrius
It's about time this whack-ass industry is starting to notice some real mothafuckas! – Dice
We feel it's long overdue, but we definitely feel great about our recent success. – Kenny
What's the deal with the beef with Funk Volume and Hopsin? Funk Volume challenged any and every rapper to a $500k battle while they were on Sway's show. Once the Shoe Gang was mentioned, it was over! We immediately hit the booth to record a song titled "Half A Meal" letting listeners know we don't have half a million bucks, but we're starving and we would battle any rapper for half a meal. They responded and we hit them again with a song that same day. It was fun for us cause the competitive nature of hip hop is part of the reason we love it. The issue is over now. All is squashed.
The album is titled Anti-Trap Music take us through the process of creating the album and how you guys feel about trap music in a whole? It didn't take us long to record the album. Once we get in music-making mode, we work like a well-oiled machine. We hate anything that stands to ruin the true essence of Hip-Hop. Trap music is getting out of hand.
There's a few respectable Trap rappers, but a lot of them are suckas who couldn't rap well if their children's lives depended on it. Also these record labels, DJs and bloggers are part of the reason Hip-Hop is becoming gimmicky. It's understandable if rappers mention hustling to tell their story, but trying to make a dance record out of it is lame.
Our album, Anti Trap Music, is an album touching on the struggle, pain, lyricism, comedy, the legends of Hip-Hop and much more.
What's the concept behind the track "Shoe-icide" and how has the reception from the media outlets been towards it? The concept is fight fire with fire. It's a protest song speaking against police brutality. Especially against the senseless killings of unarmed Black people in America. Everyone who's listened, says it's basically a new age version of N.W.A's "Fuck The Police" it's one of the standout songs on our album.
I once made my rounds as an independent artist and found the grind as a lyricist was difficult to navigate. How have you been able to maintain handling grown man responsibilities and still grind it out as an artist?
Trying to make ends meet while pursuing a career in music is one of the most difficult things to pull off. Especially if you're trying to avoid anything that would land a person in prison. We're still grinding to take care of our families. But since we grew up extremely rough, we had to gain survival skills so that gave us the strength to endure anything.
Who are some acts that you have been blessed to work with so far and who do you look forward to working with in the future? We've worked with Chino XL, Twista, Royce Da 5'9″, Dizaster, and tons of dope up-and-coming rappers. We would love to collab with cats like J.Cole, Wale, and TDE.
Whats the best way for the fans to interact with the group and any shoutouts you want to give? @Horseshoegang on Twitter and Instagram. Horseshoe Gang COB on Facebook. Shout out to Mad Man, KXNG Crooked and all COB members and supporters. Much respect to Hip Hop Vibe for showing us love. God bless.
As you know the album releases on April 29th through Seven 13 Music & Entertainment.
Follow Stranga The Great on Twitter @StrangaTheGreat.