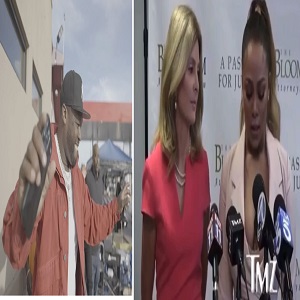 50 Cent reminds Teairra Mari that she still owes him money
In 2018, Teairra Mari suffered a horrible ordeal, when her boyfriend leaked a private video of her, on her own Instagram. This situation was made worse, when 50 Cent reposted the video. When Teairra Mari filed her lawsuit, she named 50 Cent in it.
50 Cent countersued, citing fair use, and he won. This meant Teairra Mari now owed 50 money. Since 2019, she has owed 50 Cent $34,000. Because she has yet to pay him this amount, 50 has sued for an additional $5,000. Through all of it, Teairra Mari has said "I Ain't Got It."
The king of petty, 50 Cent has had Teairra Mari served at the airport, for his money, and she ran. This situation has proven to have been a costly mistake that Teairra Mari made. She actually had warrants issued for her arrest, due to missing court dates, where she had to discuss paying 50 Cent. While he is comical about it, on social media, 50 is serious about getting his money from Teairra Mari. This evening, 50 returned to Instagram, where he shared Teairra's 2018 press conference, with Lisa Bloom, reminding her she still owes him money.
50 Cent reminds Teairra Mari that she still owes him money