By Yuriy Andriyashchuk
Hip-HopVibe.com Staff Writer
In January, Drake fans experienced disappointment when he revealed that his sixth studio album, "Certified Lover Boy," wouldn't be released that month as planned. This was due to him needing to rehab his knee that he injured last fall more. He underwent surgery then as well.
It's still unclear when CLB will finally be out but NightOwlSound provided an update on Instagram. They revealed that further information about the project will be given by Drake himself.
"Anything CLB related will be posted by DRAKE himself. Until then hold a seat and wait on it."
There have been plenty of conflicting reports regarding CLB's official release date ever since it was announced back in October on Drake's birthday. At that time, he released a trailer for the album saying that it's simply be out in January. Drake didn't reveal the postponement until the end of January.
Drake still gave fans plenty of material and hits in 2020. In January, he was featured on Future's "Life Is Good" single which is currently 8x platinum in the US. Drake soon put out "Chicago Freestyle" featuring Giveon and "When To Say When." The chart-topping "Toosie Slide" single dropped in April and at the start of May, the "Dark Lane Demo Tapes" mixtape came out. This featured other hits such as "Pain 1993" feat. Playboi Carti and "Demons" feat. Fivio Foreign and Sosa Geek. In September, Drake released his "Laugh Now Cry Later" single feat. Lil Durk which debuted at No. 2 on the Billboard Hot 100 chart.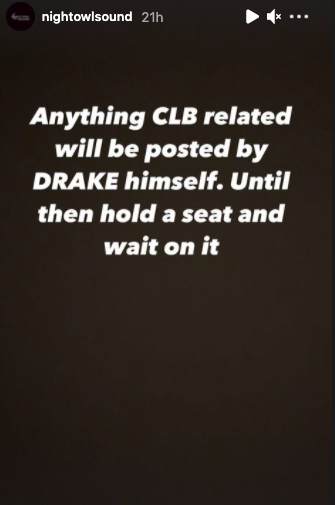 Follow Hip-HopVibe.com on Twitter and Instagram @HipHopVibe1.