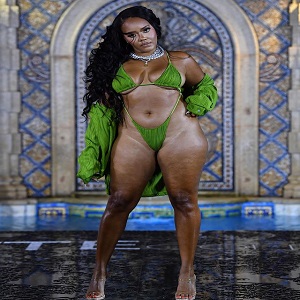 Angela Simmons goes viral for showing her natural body
Angela Simmons is hip hop royalty, as the daughter of Rev Run. As one third of Run-DMC, Rev Run helped turn hip hop from a fad into a mainstream genre. In addition, Run-DMC's success led to Run's brother, Russell Simmons, launching the iconic Def Jam label.
Angela Simmons rose to fame, in her own right, in 2005. In the fall of 2005, "Run's House" debuted. The first episode centered around Angela Simmons' birthday. This is where the world was introduced to her relationship with Bow Wow.
Angela Simmons was brought up with a wholesome image. However, it was hard to deny, or ignore, that Angela Simmons was an attractive young lady. As a result, both Angela Simmons and her sister, Vanessa Simmons, received a lot of attention. When the young ladies got older, people were quick to criticize them. Much of this came from their looks and being the daughters of a pastor, in Rev Run.
Angela Simmons publicly dealt with her baby daddy drama. On "Growing Up Hip Hop," Angela Simmons looked like she was going to finally get with Romeo Miller. Instead, Angela revealed she was pregnant by Sutton Joseph. Towards the end of 2018, Sutton Joseph tragically passed away, while he and Angela were still figuring their relationship out. Through it all, Angela Simmons was public about what happened. Likewise, with her body, Angela was honest, showing what she really looks like, and it has taken the internet over.
Angela Simmons goes viral for showing her natural body