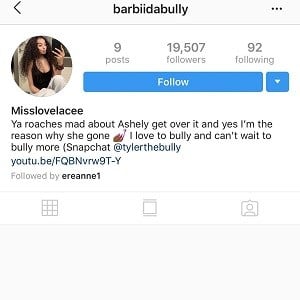 By Ahsinet Monee
Hip-HopVibe.com Staff Writer
If not looking at this, directly, this would be impossible to believe. It was bad enough to discover that anyone as young, beautiful, and promising as @misslovelacee would commit suicide. Now, to find out why is absolutely heartbreaking.
Not only was @misslovelacee being bullied, her bully has absolutely no remorse. This is really a sad time in the culture and makes it justifiable why some people really hate social media. But, @barbiidabully is a transgender female who targeted @misslovelacee, Ashley.
After her death, @barbii continues to take credit for being the person who made her commit suicide. Many of @barbii's posts are poking fun at her death, saying all kinds of cruel things. This is really a horrible situation, as @barbii has many cruel things to say.
Follow Hip-HopVibe.com on Twitter @HipHopVibe1.