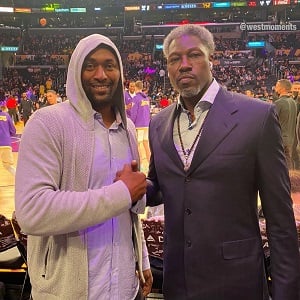 Last night, Ben Wallace and Ron Artest, better known as Metta World Peace, ended their feud. In 2004, the then-NBA players got into a fight. Respectively playing for the Pacers and Pistons, their fight sparked the biggest brawl in NBA history.
Nearly twenty years have passed since Malice at the Palace took place. In interviews, both Ben Wallace and Ron Artest have said they have no issues with the other. On "All The Smoke," Artest went in-depth about his regrets, offering Ben an apology, and condolences on the loss of his mother.
Ben Wallace and Ron Artest met in person for the first time since their NBA days. Here, they made a huge statement for sportsmanship, and for brotherhood. The two, present for the Lakers/Pistons game, gave each other dap, and took a photo together, putting any beef to rest.