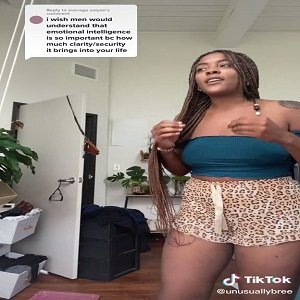 Black men insult female Black therapist on Twitter
On TikTok, @unusuallybree has become a very popular figure. A therapist by trade, @unusuallybree has become a social media star. While TikTok is where @unusuallybree primarily operates, a lot of the attention she is receiving is coming from Twitter.
Over the weekend, @unusuallybree had a TikTok video that gained momentum on Twitter. A woman shared her video, which was addressing Black men. Clearly, @unusuallybree is a Black woman. With that being said, @unusuallybree offered some stern advice to Black men.
Basically, @unusuallybree said Black men are behind the curve when it comes to taking care of women, particularly Black women. While she went the vulgar route, @unusuallybree said Black women used to need men for their stimulation and financial security. In modern times, however, @unusuallybree said women can satisfy themselves, and they also have good jobs of their own. As a result, Black men have to step up, emotionally, which many do not do.
Because @unusuallybree said what she said, her video went viral. The Black men on Twitter found the video and it's been trending for three days. As a result, @unusuallybree has been getting dragged by the Black men on Twitter. In addition, the video from her has sparked a debate, which is ongoing, about Black men, Black women, and their relationships.
Black men insult female Black therapist on Twitter
TikTok can actually be a gem. I love this! Open your fucking mouth! Men, come listen. pic.twitter.com/t8JOOjDxiq

— Morticia Addams 🎃✨🇵🇦 (@_PanamaGold) August 13, 2022