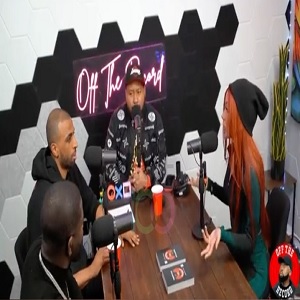 Brittany Renner checks Myron from Fresh and Fit for dissing women
Typically, Brittany Renner receives a lot of flack for her controversial stances. Many have accused her of grooming PJ Washington and she still gets backlash for that whole relationship. But, people are standing by what Brittany told Myron Gaines from the Fresh and Fit podcast.
The first major story of 2022 came when Myron Gaines got into an argument with Asian Doll, on the podcast. Things got heated, so Asian Doll left the podcast, and this followed a situation where DJ Akademiks nearly fought a woman. A lot of people have expressed their distaste for Fresh and Fit.
Brittany Renner had the chance to meet Myron Gaines, on DJ Akademiks' podcast. A clip that has surfaced has Myron telling Brittany that she's "nothing special." This leads Renner to question what Myron gains from telling women that they aren't special. While he tries to play it off as a joke, Brittany asked him a serious question. From there, Brittany Renner asks how he'd feel if she insulted him, before she told him how she feels about his podcast. She told him the "Fresh and Fit" name is "underwhelming and she hates the studio setup, which is why she turned their interview request down.
Brittany Renner checks Myron from Fresh and Fit for dissing women