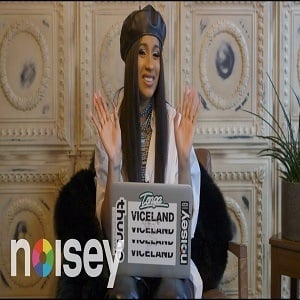 By Alyssa Debonair
Hip-HopVibe.com Staff Writer
This year, Cardi B is the one that everybody was trying to catch up to. It is easy for people to write others, or even themselves, off, when they look at the position they were in. Coming into 2017, Cardi B was a B-list celebrity, at best, and she looked more poised for TV, than music.
DJ Khaled looked like he had 2017 on lock, as he did in 2016. Not taking away from his amazing year, but Cardi B stole all of that thunder, only days after her final "Love & Hip Hop" episode aired. At the end of the summer, Cardi B took over the charts, with "Bodak Yellow."
Cardi B has now sat down with Noisey for "The People Vs." series. This is where people take on the comments under their YouTube videos. As always, Cardi B was funny as heck, as she responded to the comments on the "Bodak Yellow" video.
Watch the entire video below:
Follow Hip-HopVibe.com on Twitter @Hip_HopVibe.