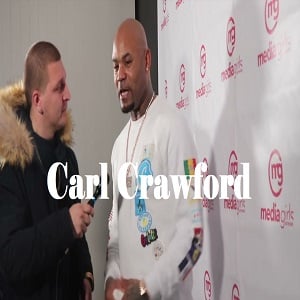 Carl Crawford talks artist development and Martina Marie
Carl Crawford has turned 1501 Certified Entertainment into one of the hottest record labels in the music industry. In only five years, he signed stars such as Megan Thee Stallion and Erica Banks. Now, he has new acts in Martina Marie and D-Rawww.
This massive success for Crawford came after a successful fifteen year career, in the MLB. Crawford spent time with the Tampa Bay Rays, Boston Red Sox, and Los Angeles Dodgers. During that period, Crawford was a four time All-Star, four time AL stolen base leader, as well as a Golden Glove Award and Silver Slugger award winner.
On January 15, Hip-HopVibe.com caught up with Carl Crawford, at 1501's Atlanta media mixer event. Crawford spoke on seeing success with his artist development skills over the years, new artists he's brought on to 1501, along with how his transition from professional baseball, into the music industry. In 2022, much of 1501's focus will be on Martina Marie.
Carl Crawford talks artist development and Martina Marie