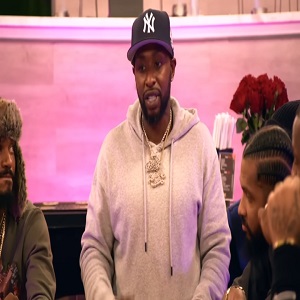 Ceaser from Black Ink Crew is seen hitting his dog with a metal chair
Ceaser, from "Black Ink Crew," has been controversial in his time on the show. While Ceaser is the leader of the Black Ink Crew, he has gotten into a lot of drama with his team. Of course, Ceaser had the high profile situation with Dutchess, before she decided to leave the show.
Ceaser has had his fair share of drama. All of Ceaser's drama was not limited to "Black Ink Crew," or New York. For a brief period, Ceaser was on "Love & Hip Hop Atlanta," dating Karlie Redd. During that time, Ceaser drew backlash from Yung Joc.
Ceaser had issues with his own daughter, early last year. His daughter took to Instagram to call Ceaser out for mistreating her. However, Ceaser came out to quickly clear the air, accusing his daughter of making up her accusations. As a result, Ceaser did not face much backlash. This afternoon, Ceaser was seen on video, and it was clearly him. In the video, Ceaser can be seen hitting his dog. A search on Twitter will show the video.
Source: Gossipofthecity
Ceaser from Black Ink Crew is seen hitting his dog with a metal chair