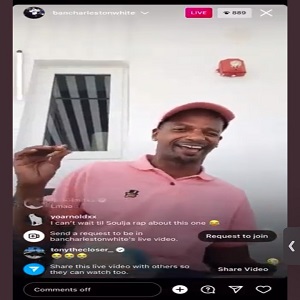 Charleston White sprayed mace at Soulja Boy and his crew
Charleston White is no stranger to controversy. Over the past couple of years, Charleston White has become a celebrity on YouTube. Outspoken, Charleston White sometimes rubs people the wrong way. This has led to some tough relationships, such as Soulja Boy.
Charleston White is very outspoken and sometimes people speak back. Soulja Boy is also a very outspoken person and he gets into controversy. An innovator, Soulja Boy was the first rapper to rise to fame via social media. Initially, Soulja Boy was viewed as an anomaly, but this is now the norm.
Charleston White was at Rolling Loud and he ran into Soulja Boy. With Soulja Boy being a major figure, in the rap game, of course he was present for Rolling Loud. When Soulja Boy saw Charleston White, he wanted to talk to him. Sensing a confrontation, Charleston White instead began spraying pepper spray at Soulja Boy. During the confrontation, Soulja Boy had twelve other people with him. After the confrontation, Charleston White went on Instagram Live to explain the situation. White warned Soulja Boy to come with the police the next time he wants to speak to him, or get hit with mace again.
Charleston White sprayed mace at Soulja Boy and his crew