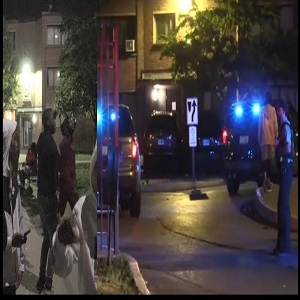 Chicago rapper Bosstop was shot outside of O Block last night
Bosstop was a part of the 2012 wave of Chicago rappers who took over the game. When Bosstop began, he was friends with Chief Keef. By the time it was said and done, Bosstop and Chief Keef had beef. In recent years, Bosstop has kept a low profile, outside of Chicago.
Bosstop remains a fixture on the Chicago scene. Recently, there was controversy regarding Bosstop and O Block. Last night, Bosstop was involved in a shooting that took place on O Block. Apparently, Bosstop was one of five people who were involved in the situation.
Bosstop was at O Block and among a number of other people present. While Bosstop was there, a shooting took place. Apparently, Bosstop was a target of the shooter, as he was hit. In addition to Bosstop, there were five other victims. Prior to the shooting, Bosstop was reported to have had some controversy at O Block. As of press time, there have been no reports on Bosstop's condition. However, the story is developing, and updates will be provided, as more info is available.
Source: 4th Quarter TV
Chicago rapper Bosstop was shot outside of O Block last night