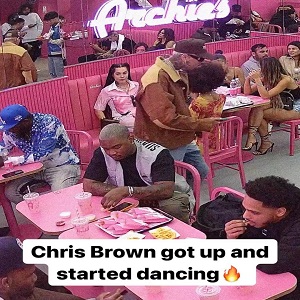 Chris Brown randomly danced in a restaurant and nobody cared
Chris Brown took over the game, at the end of 2005. During the fall of 2005, Chris Brown's single, "Run It," began to dominate radio. At the time, Juelz Santana was the hottest rising rapper in the game. As a result, Chris Brown featured Juelz Santana on the record.
Chris Brown immediately overcame the one hit wonder stigma. Before fans had the chance to write Chris Brown off, he came with repeated hits. When Chris Brown released his sophomore album, he tapped in with T-Pain. As a result, Chris Brown came back out, and reached the top of the charts.
Chris Brown recently complained about the low support his new album has received. Ironically, T-Pain out of all people called Chris Brown out over this. Accusing Chris Brown of suffering from the "Princess Syndrome," T-Pain essentially told CB to get over it. Recently, Chris Brown was at a restaurant, and he did enough to steal the show. In the most random of ways, Chris Brown broke out, and he started dancing. In spite of Chris Brown being out there giving his best moves, nobody reacted to it, let alone looked at him.
Chris Brown randomly danced in a restaurant and nobody cared