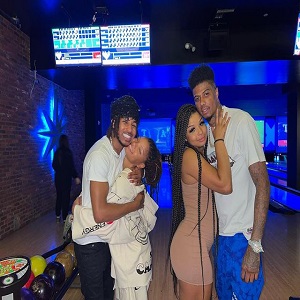 Chrisean Rock sparks pregnancy rumors on Twitter after date pic
Chrisean Rock has become one of the most controversial names on the internet. It seems as if Chrisean Rock has risen the ranks to become Blueface's top girlfriend. As many remember, during the pandemic, Blueface moved several women into his home.
Chrisean Rock was introduced to the world as "Rock Head." In the early days, Chrisean Rock was fighting a lot of the other ladies in the house. As a result, Chrisean Rock became the most known woman in Blueface's life. However, Chrisean Rock would clash with Blueface's mother and sister.
Chrisean Rock actually ended up getting into a physical altercation with Blueface's mother. Despite this, Blueface remained in a relationship with Chrisean Rock. After that, Chrisean Rock got her tooth knocked out in a fight. When Chrisean Rock got her tooth replaced, she took it out, per Blueface's request. Not only did Chrisean Rock replace her tooth, she got Blueface's photo added to her tooth. This past weekend, many people on Twitter were criticizing Chrisean Rock for being with Blueface.
Chrisean Rock and Blueface went on a double date with Halle Bailey and DDG, meanwhile. After the double date, Chrisean Rock posted photos of their time together. Many fans noticed Chrisean Rock's stomach looking a little big. As a result, fans are now thinking Chrisean Rock is pregnant. On both Twitter and Instagram, fans are speaking on this.
Chrisean Rock sparks pregnancy rumors on Twitter after date pic