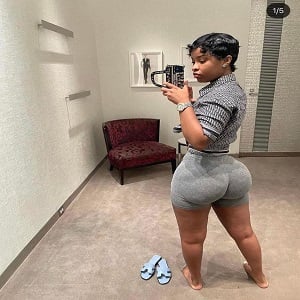 Dej Loaf looks like she's gotten butt enhancements
This fall, it will have been eight years since Dej Loaf took over the game with "Try Me." While many may try to forget, Dej Loaf had a solid three year run. During that time, Dej Loaf was dating Lil Durk.
There were a lot of rumors about Dej Loaf and Lil Durk. But, whatever the case, the two ended as quickly as they started. Ironically, when the two were dating, Dej Loaf was the bigger star of the two. She had music all over radio, including a song with The Game.
In 2016, Dej Loaf and Lil Durk ended up deciding to break up from each other. During that span of time, there was a rumor that Dej Loaf had gotten booty enhancements. Given Dej Loaf's style, many people wrote those rumors off as just silly gossip. Now, nearly six months later, Dej Loaf is trending on Twitter, due to the above photo, which shows her plump booty. This has reignited the booty enhancement rumors.
Since 2016, Dej Loaf has taken a noticeable step out of the limelight. Meanwhile, Lil Durk has become the biggest star in the game.
Dej Loaf looks like she's gotten butt enhancements