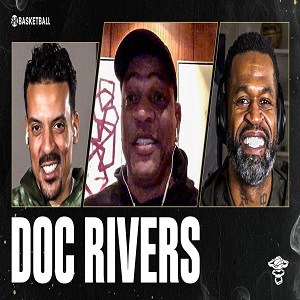 Considered by most to be one of the NBA's greatest coaches of all-time, Doc Rivers has been some places. Before the title, he won Coach of the Year, with the Orlando Magic. But, he led the Celtics back to greatness.
Doc Rivers guided the Boston Celtics from being one of the worst NBA teams, to a 66-win champion, in just one season. This was after Boston traded for Kevin Garnett and Ray Allen. That deal made the Celtics championship contenders.
Recently, Matt Barnes and Stephen Jackson got the chance to talk to Doc Rivers, for "All The Smoke." The interview, obviously, saw them speak on the Boston Celtics' 2007-2012 "Big 3" era, with Paul Pierce, Kevin Garnett, Ray Allen, and Rajon Rondo. When that time ended, the Celtics traded him to the Los Angeles Clippers, where he tried to guide Chris Paul and Blake Griffin to greatness, but found himself unable to get them past the second round, like everyone else.