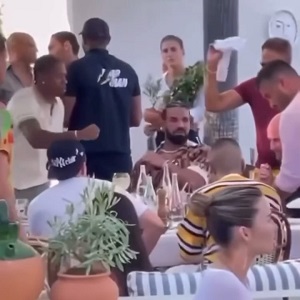 Drake's entourage frantically swats bee to stop it from stinging him
Drake took over the rap game, some time ago. When Drake accomplished this feat, he was filled with firsts. Firstly, Drake was the first rapper from outside of the United States to become a major star. Secondly, Drake was the first teen actor to find success as a rap star. Thirdly, Drake was the first member of a crew to have breakout success. Finally, Drake was the first rapper who could actually sing.
Drake defied all of the odds, during his run. Also, Drake is directly to blame for the blending of mixtapes and albums. Early in 2015, Drake kept fans waiting for his album, Views, which was originally due in 2014. While Drake didn't drop his album until 2016, he did drop If You're Reading This, It's Too Late. A surprise project, Drake titled it a mixtape, but released it as he would an album. Ever since Drake did it, rappers have given themselves the green light to blend their releases.
Drake is not like the typical rap stars, from years past. Not only is Drake not from the streets, he has never tried to portray that image. Seeing how he started on "Degrassi," Drake never shied away from it. As a result, Drake moves different with his team. Currently, Drake is in St. Tropez. While he is enjoying himself out there, Drake ended up being targeted by some bees. Not to worry, Drake's team was right there to stop him from getting stung.
Drake's entourage frantically swats bee to stop it from stinging him