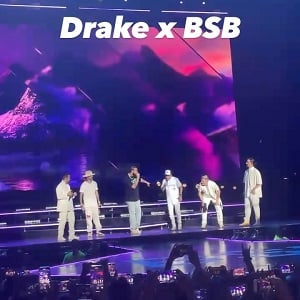 Drake performed with Backstreet Boys in Toronto
Drake has had the longest run of success in hip hop history. For twelve straight years, Drake has dropped at least one hit every summer. With his newest album, Honestly, Nevermind, Drake topped the charts one more time. Right when people counted Drake out, he came back with another one.
Drake represents the new era of rapper. This era is the first era where rappers influenced by the whole pop culture. The leader was Drake, in this era. With Drake actually starting his career as an actor on "Degrassi," he proved this. His success, however, has made people forget all about this.
Drake had influences from all aspects of the music industry. Last night, Backstreet Boys performed in Drake's hometown of Toronto. When Backstreet Boys performed, Drake was in the crowd. Once Backstreet Boys learned of this, Drake was called up on stage. As a result, Drake ended up performing with Backstreet Boys. Together, Drake and Backstreet Boys performed their classic single, "I Want It That Way." This has become Backstreet Boys' signature single. Meanwhile, Drake has put his spin on a song that he grew up listening to.
Drake performed with Backstreet Boys in Toronto
https://www.instagram.com/p/CfjCMiaFt43/