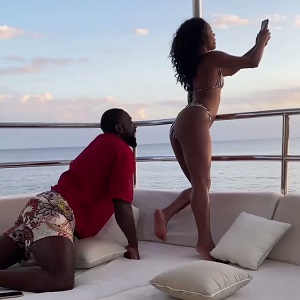 Dwyane Wade bites Gabrielle Union on vacation
Dwyane Wade was once on his way to being one of the greatest NBA players of all time. During his rookie season, Wade played like an All-Star during the second half of the season. As a result, the Miami Heat made the playoffs, and came within two wins of the Conference Finals.
Dwyane Wade landed Shaquille O'Neal as a teammate and had two MVP caliber seasons in 2005 and 2006. In 2005, Wade led the Heat to within one win of the NBA Finals. A year later, Dwyane Wade led the Heat to their first ever championship. However, injuries derailed Wade's career.
Dwyane Wade managed to have a Hall of Fame career. In 2010, he took a backseat, assisting LeBron James as he led the Miami Heat to two more titles. As a result, Dwyane Wade is a three time NBA champion. Two years after Wade's first title, he and Gabrielle Union began dating. During the LeBron era, Wade and Gabrielle Union wed. Ever since, they have been social media's happies couple. The two have shared several yacht videos. Wade took husbandly liberties with his wife, while he was on the yacht.
Dwyane Wade bites Gabrielle Union on vacation
https://twitter.com/TheNBACentral/status/1562148657260109824?s=20&t=d72heiMts2CMvtA9q8GkiA