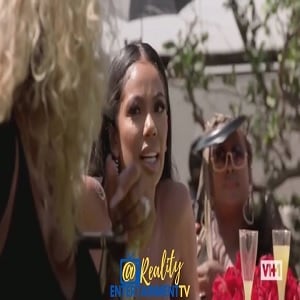 Erica Mena and Cyn Santana refuse to end their beef
Nine years ago, Erica Mena broke up with Rich Dollaz, after he broke her heart. During the summer of 2013, Erica Mena helped make Instagram popular. She began sharing intimate photos of herself with a woman who looked just like her. Soon, the identity of Erica Mena's girlfriend was revealed to be Cyn Santana.
Erica Mena and Cyn Santana were immediately the hottest couple on "Love & Hip Hop." Back then, Erica Mena called Monday nights on VH1 "Mena Mondays." During that 2013-2014 period, Erica Mena truly made it "Mena Mondays." The relationship was fun, as Erica and Cyn had a classic Hot 97 interview, describing what they were doing.
However, Erica Mena and Cyn Santana had their fair share of problems. Their romance stopped being fun, so they broke up. Erica kissing Bow Wow at "106 & Park" was the effective end of their relationship. There were some attempts to make it work, but Erica moved on with Bow Wow. Cyn Santana moved on with Joe Budden. She and Erica had a reunion on "Hollywood Squares," at VH1. Not long after, Erica and Cyn ended up having more friction. When Erica returned to "Love & Hip Hop," she and Cyn hugged it out. More bad blood spilled, since then, so on last night's "Family Reunion" episode, Erica and Cyn refused Bobby Lytes' request to hug it out again.