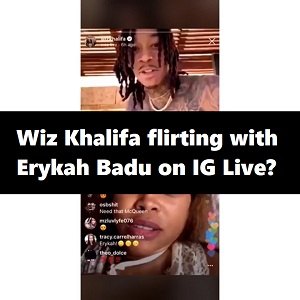 By Ahsinet Monee
Hip-HopVibe.com Staff Writer
Currently, Wiz Khalifa is in the middle of plotting a comeback. A few years ago, Wiz was dropping an album every year, but he hasn't dropped an official album since 2014. However, Wiz Khalifa has continued releasing a lot of music.
"See You Again," with Charlie Puth, gave Wiz Khalifa his second chart-topping Billboard number one single. But, "Something New," which features Ty Dolla $ign, was Wiz's last radio hit. Even longer it's been since Wiz Khalifa had a leading lady.
Wiz Khalifa was rumored to be with Winnie Harlow, but those rumors were never confirmed. Early this morning, Wiz Khalifa went live on IG from the Dominican Republic, when Erykah Badu crashed it. The two proceeded to do some major flirting, with a fan commenting that Erykah wants that young thing and to change Wiz's life.
Watch the entire video below:
Follow Hip-HopVibe.com on Twitter @HipHopVibe1.