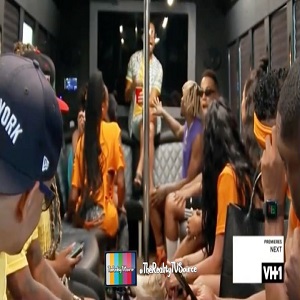 Tonight, Zell Swag offended Jonathan Fernandez, on "Love & Hip Hop Family Reunion." Zell spoke on being bisexual, saying he wasn't as flamboyant as Jonathan and Bobby Lytes. Both are openly gay and flashy men.
Zell Swag spoke on his sexuality, on "Love & Hip Hop Hollywood." He revealed he actually dated women in high school, coming out later. On the show, Zell ended up having a girlfriend.
On "Love & Hip Hop Hollywood," Zell Swag called Jonathan and Bobby Lytes out. He accused them of being over-the-top. While he admitted he likes men, he said being over-the-top may make guys like Juelz Santana uncomfortable.
Meanwhile, Twitter is dragging Zell Swag. Fans say Jonathan and Zell Swag are both wrong on gay sexuality. Jonathan is wrong for comparing being black to being gay, according to fans. On the other hand, Zell is wrong for trying to impress Juelz Santana, according to fans.