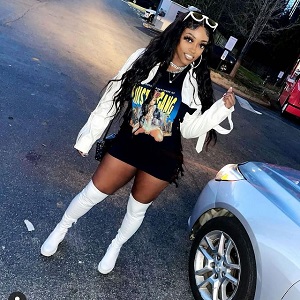 Fetty Wap ex girlfriend Yaya shot in New Jersey home invasion
Fetty Wap had an incredible run, during the 2014-2015 period. Behind "Trap Queen," Fetty Wap rose to fame. When he was still rising, Fetty Wap spoke to Hip-HopVibe.com about his success. Once Fetty Wap gained fame, he became known for the women in his life.
Fetty Wap is the father of several children by multiple women. As a result, Fetty Wap often finds himself in the middle of gossip. When Fetty Wap's music began to decline, he joined "Love & Hip Hop Hollywood" to cash in on the gossip.
Fetty Wap was involved with a woman named Yaya, before the fame. Currently, Yaya is in need of prayer, as she is living a nightmare. Last night, Yaya became the victim of a shooting. When Yaya was at home, an intruder came into her house. During the process of Yaya's home being invaded, the person who broke in wound up shooting her. Following the shooting, Yaya was rushed to the hospital. Currently, Yaya's condition is unknown. Updates will come as more information is provided. Again, prayers go out to Yaya and her family.
Source: TeaTenders
Fetty Wap ex girlfriend Yaya shot in New Jersey home invasion