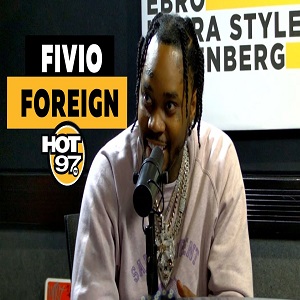 Fivio Foreign talks release of debut album BIBLE on Hot 97
In New York, Fivio Foreign has quietly stepped up as the hottest rapper in NYC. Not only does Fivio Foreign have a grip on the current trends, he has the co-signs from the OGs. Fivio Foreign already had huge records, but then he did "City of Gods" with Alicia Keys and Kanye West.
Fivio Foreign isn't the first Brooklyn drill rapper. However, Fivio Foreign is the first one to have a fully operational team behind him. This is the reason why Fivio Foreign was able to take his viral momentum and turn it into a real situation. Now, Fivio Foreign is one of the hottest rappers out.
This morning, Fivio Foreign released B.I.B.L.E., his debut album. B.I.B.L.E. has been met with much fanfare, which follows the release of two EPs. Fivio Foreign went all out with his debut album. On B.I.B.L.E., Fivio Foreign has features from Quavo, Kanye West, Alicia Keys, Queen Naija, Coi Leray, Chlöe, Lil Yachty, A$AP Rocky, Lil Tjay, Yung Bleu, DJ Khaled, Blueface, Ne-Yo, and more.
Fivio Foreign stopped by Hot 97, where he spoke to Ebro, Laura Stylez, and Rosenberg. Hot 97 spoke to Fivio Foreign about B.I.B.L.E. There is a song that samples Destiny's Child's "Say My Name" that Fivio Foreign said Beyonce told him to clean up, before he was allowed to use it. Fivio also discussed his friendship with Pop Smoke, and his music.
Fivio Foreign talks release of debut album BIBLE on Hot 97