By Bossyy
Hip-HopVibe.com Staff Writer
Currently, the police brutality is taking its toll on the minority communities. This is something a lot of people are trying to ignore and downplay. Even with Jacob Blake, people are arguing that he wasn't listening to the cops, while others say he was a criminal.
Led by LeBron James, the sports world has protested the police brutality. The Milwaukee Bucks and Orlando Magic refused to play their playoff game. Meanwhile, James' Los Angeles Lakers, and the Clippers, refused to finish the rest of their season.
In response to this, Fubar Pizza Bar, of Fort Walton Beach, Florida, has decided to no longer play sports games in their establishment. On Facebook, they said that they stand with the military and law enforcement. Because of the NBA, NFL, NHL, MLS, and MLB players "disrespecting our law enforcement," by protesting police brutality, and demanding equality for all, they will not be supporting their games.
Read Fubar Pizza Bar's Facebook status below: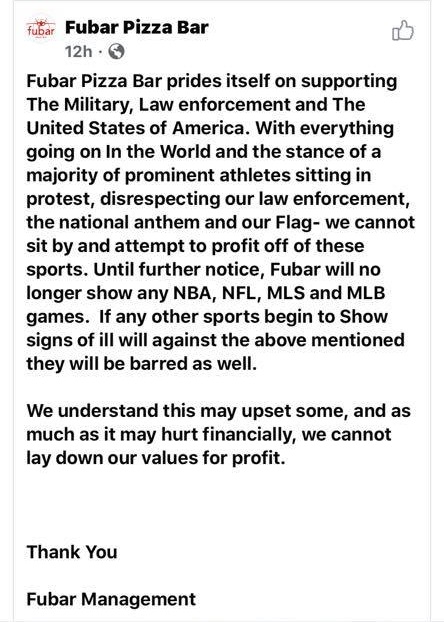 Follow Hip-HopVibe.com on Twitter @HipHopVibe1.