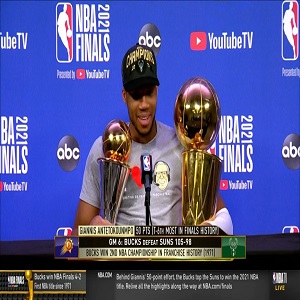 The Milwaukee Bucks have won their first NBA championship, in fifty years. Giannis Antetokounmpo is the reason for the Bucks' title win, over the Phoenix Suns. He stayed with this team, immediately signing a contract extension, when he could have easily left.
At one point, there were rumors Giannis would sign with the Golden State Warriors. But, Giannis Antetokounmpo made it clear he preferred to make his own legacy, in Milwaukee. While he wasn't originally intended to be the franchise player, Giannis became an all-time great.
Giannis Antetkounmpo is celebrating his championship run, but he spoke to the media. He talked about how he led the Bucks to their first championship, in fifty years. Giannis also spoke on Kobe Bryant challenging him, on Twitter, and his 50-point game, in the title clenching game.