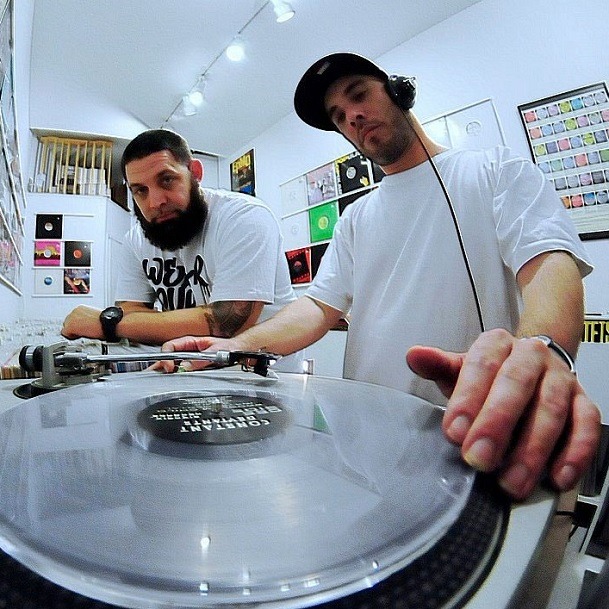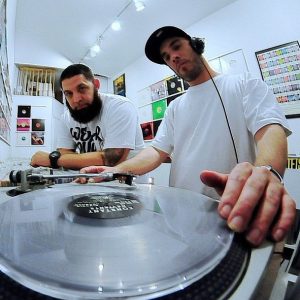 By Stranga The Great
Hip Hop Vibe Staff Writer
Relics of the previous incarnations of hip hop's sound have all found various forms of success in recent years. The digital era has reached heights previously believed impossible. In simpler terms, there are so many people online, they all flock to what they like.
Constant Deviants is a veteran duo in the game, but they never had much mainstream attention. Honestly, their style isn't geared towards the commercial side of hip hop. But, their fans still flock to them with the internet making it that much easier to get to them.
Recently, Constant Deviants took time out to speak to Hip Hop Vibe. The interview centered around Avant Garde, their new album. The two also discussed their music background and what else they have going on.
Read the entire interview below:
How long have you guys been Hip Hop artists? M.I. – My whole family is musicians, so I grew up surrounded by music. Pops was a jazz musician, big brother guitar. So, I was bound to get involved. As far as Hip Hop goes, that's just the culture of the community and era I grew up in. As far as being part of the culture it's my whole life, every aspect of it, but as far as emceeing goes I started young and was better at that than let's say DJ'ing etc, so I stuck with it and became the best emcee I could become
CUTT – I bought my first turntables when I was eleven. That was the beginning for me, certainly as far as being a hip hop "artist." The first Constant Deviants 12″ was released in 1996
How did the two of you actually meet and what led to the name "Constant Deviants?" M.I. – We met at a college in NY that a mutual friend attended. Cutt would DJ parties there and I would just come up to visit. At some of the parties I would get on the mic and we just vibed well. That was the start of the dynamic duo! As far as "Constant Deviants" goes I think we had an idea of how we wanted to describe ourselves and we opened up the dictionary and found 2 words that flowed nicely that described it (laughs).
What are your thoughts on the current climate of commercial rap? M.I. – We have always had commercial rap and underground rap. One doesn't interfere with the other. It's not like if the radio wasn't playing Drake they would definitely play our music. If you are inside of the machine then it works for you, if not you have to find your spot. I think there is a time and a place for everything. A lot of it is trash but not all of it. Let's not forget even some of your "Top 10" list were forced to make "commercial rap"
CUTT – I have no problem with commercial rap. I understand what it is. There's good and bad just like in any other era, 90's, 80's etc.
Most lyrical rappers have diverse backgrounds. What were some of your early inspirations as far as life goes? M.I. – My inspirations were life itself. As an early MC, I was more of a battle rapper. I was big on metaphors, punch lines, etc, but as I got a little older I took more to writing about life. I grew up in Baltimore, Maryland and that's the type of city that you can experience the best and the worst. So I take from everything I've seen in life and add it to my creative process.
Tell me your favorite five musicians and who do you think the G.O.A.T is? M.I. – I can't really pinpoint a favorite 5. My list could probably change day-to-day depending on what mood I'm in. So many genres, so many different ways to express yourself. I love all types of music and have too much respect for musicians on the whole to say who is the best. I would like to believe I haven't come across the G.O.A.T as of yet so it can only get better!
CUTT – Top 5 musicians is difficult. I don't have a top 5. There are so many that are inspirational in different genres. There are Jazz guys like Herbie Hancock and Miles Davis to producers like Gamble & Huff and MC's like Rakim. I don't think there is a greatest.
How did you guys get connected with Mark Pitts and what was the experience with Arista Records? M.I. – We were signed to Brooklyn Pipeline and Ken, the owner of the label had a childhood friend that worked for ByStorm. ByStorm was Mark's company and he gave Mark the demo and he loved it and it was on from there. As for Arista or any of our other industry experiences, I always felt it wasn't for me as an artist. I always felt suffocated creatively. I learned a lot through Mark and that will always be big homey but I enjoy being independent.
It seems the music business is declining which is in favor of the independent artist. Can you tell me your approach on being successful as an independent? M.I. – That's definitely true. I would say it's mostly because of the internet. The labels have lost their stronghold. It's a double-edged sword though because it also doesn't help indie artists generate income. You can become popular and you can build a fan base on your own now, but rarely do people buy music anymore. With that being said we are actually in a good spot because most of our listeners like physical product (vinyl, Cd's, cassettes) so we still put music out the way it should be.
CUTT – To make it as an independent you have to stay close to your fans. You have to interact, reach out. I think when the majors detached themselves from the fans is when they went downhill. Other than the internet of course.
I had the opportunity to listen to a private stream of your new album Avant Garde and it's pretty dope. Explain the creative process behind the album and it's creation? CUTT – We had been recording pretty steadily after our last album DIAMOND which was around 2011-12. We took a couple of trips out to Europe over the past year and experiencing the culture on a larger scale inspired the album idea. We wanted to do a Constant Deviants album that had our signature sound but bring it to a larger audience. With this album we experimented with some new sounds and song concepts and still kept that classic feel. The creative process at this point is simple. I make the beats, M.I. writes the rhymes. We have worked together since day one. We know what works for us. We trust each others visions.
When it's all said and done what do you want your legacy to say about Constant Deviants? M.I. – I'll say this, it wont be said and done until they take me away from here so I hope to only have just got started. Cutt and I are Constant Deviants and that will always be one aspect of who we both are as artists. He is an amazing producer/DJ and I would love to see him have a chance to work with other greats and I would like the same for myself. I think both of us would like to have Constant Deviants be remembered as a Hip Hop duo that always challenged the current state of the genre. We never wanted to sound like anyone else that was popular at the time. Maybe because of that it took time for people to catch up with us.
CUTT – We worked hard and still do. We put time into our crafts. I think we are dope and would like others to think so too. As Constant Deviants I feel we always brought something different to the table but familiar at the same time.
What is the best way for the fans to find you on the internet? M.I. – We have loads of different online platforms. Our main site is http://constantdeviants.com and the label is at http://thesix2sixshift.com Of course we got social media too. Our Facebook page is www.facebook.com/ConstantDeviantsMusic and if you want to reach us on Twitter we are @Cnstnt_Dvnts and @Six2SixShift
Stop by and holla and we'll holla back atcha!
Follow Stranga The Great on Twitter @StrangaTheGreat.