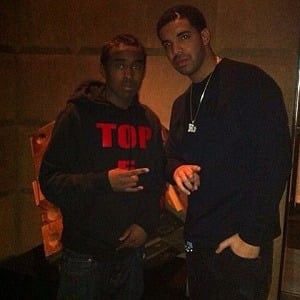 By YRS Jerzy
Hip Hop Vibe Staff Writer
Currently, Toronto is the hottest city in hip hop and overall music. The city got put back on the map when Drake emerged in the rap game and crossed over. Since then, several names have come and gone through the city.
Top 5 is an up-and-coming artist people should pay attention to. He is constantly working on new music and it is not going unnoticed. Gaining a lot of co-signs, Top 5 got the most-important co-sign in his city when he got Drake's stamp of approval.
Recently, Top 5 spoke to Hip Hop Vibe for an On The Rise interview, where he discusses this. The Toronto rapper speaks on Drake co-signing him and the music coming from his city. During the interview, he speaks on his music, Drake, Justin Bieber, and more.
Read the entire interview below:
Top 5, you are getting a lot of recognition out in Toronto. Who are some of your favorite artists from the area? My favorite artist from the area are Drake and Bieber. I say that because they have their own sound and don't steal nobody else song.
What made you call yourself "Top 5" ? Could you tell us the history behind your name? I got name Top 5, when I was hooping. I was destroying niggas in the game and they couldn't stop me so they where calling me Top 5 my age group.
You're only sixteen and your generating so much momentum with your music, how does that make you feel? It feels amazing knowing I'm that young going so hard. I'm just trying to go hard and hard everyday and get my family out the hood
Drake gave you a shout out on his album for the song "Grammys" how did you two meet up? Me and Drake been homies for the past two years. I met him at a ball game and I lied to him that I'm a brother that a girl from my neighbourhood that he liked. So, after that, we just linked up and I started dropping music then he posted my song out of nowhere on his page. From there, I knew it was a go.
With something as major as a Drake co-sign how have things been changing for you? It's been amazing, word to Drizzy. A couple days before Views dropped, Drake hit me on DM, saying "text me." so I texted him and he told me I got u on Views. From then on, it's been a movie. Every day felt like Friday!!!
Thanks for taking the time out to speak with us. We will be looking for your future material. Can you let everyone know where they can find you via social media? You can find me on Instagram as Top5 and Twitter: Hassan_Top5… More hot bangers on the way… You never know who you can hear on my next song with! Shirt off shawty!!!
Watch "Bout My Money" by Top 5 below:
Watch "Hall of Fame" by Top 5 below:
Follow YRS Jerzy on Twitter @IAMYRSJERZY.