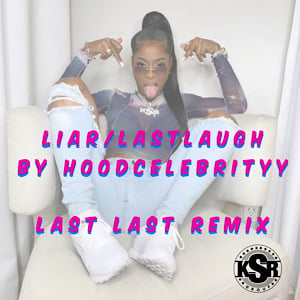 The Jamaican-born Bronx native, better known as HoodCelebrityy returns with her most recent release! Fresh on the heels of her mesmerizing "Signs" visuals, Hoodcelebrityy unleashes her spin on Burna Boy's "Last, Last" with a raving remix titled "Liar / Last Laugh". Since, the sizzling single has garnered global attention as  "Liar / Last Laugh" has amassed over 1.1 million organic views on Tik Tok alone! With an Afro Beats, Caribbean fusion, the female freeing remix is a breath of new air. Hood's version of "Last Last" will undoubtedly dominate DJ sets at the hottest events and trendiest gatherings. More so, her lyricism can be applied to many ladies who feel empowered after ending their relationship with a toxic ex! 
Keeping up the momentum, HoodCelebrityyy doesn't look to be slowing down anytime soon! In fact, since her breakout banger, "Walking Trophy" she has been on a rapid rise! She later became known for hits such as, "Bum Pon It" and many more. Throughout her career, she has collaborated with artists like French Montana, Fabolous, Lil Kim, Trey Songz, and Tory Lanez to name a few. As HoodCelebrityy's fan base continues to grow, so does her impact and influence on the culture. 
The Rise Of Hoodcelebrityy
Furthermore, her single, "So Pretty " is still going viral on TikTok and empowering women to always feel beautiful and confident in their skin. It is organically averaging over 1000+ videos per day with over 216,000+ videos created to date. As a result, it has spiked on all DSP. Hoodcelebrityy continues to be a vibrant voice for the ladies while making you want to get on your feet! Having performed on massive shows such as Hot97 Summer Jam Concert, and recently wrapping up a 10-city tour with Rotimi, it's safe to say HoodCelebrityy is an international celebrity! In doing so, she is destined to be one of New York's most dominant Dancehall artists and we are here for the journey! 
For now, press play on her  "Liar / Last Laugh" freestyle and let us know what you think here at Hip-HopVibe.com! Lastly, if you haven't already, get familiar with this fiery femcee. 
CONNECT WITH HOODCELEBRITYY ON SOCIAL MEDIA:
Instagram || Spotify | Apple Music | YouTube