Ice Spice celebrates milestone of 10 million Instagram followers
Ice Spice has become one of the biggest breakout artists in the industry this year, as she's consistency pumped out hit records. Among them have included "In Ha Mood," "Princess Diana" remix with Nicki Minaj, "Deli," and more, as these appeared on Spice's debut "Like..?" project. Furthermore, the Bronx rapper was even featured on Taylor Swift's "Karma" remix.
Meanwhile, Ice Spice has reached another major social media milestone, as well. This time, she has surpassed the 10 million followers mark, on her Instagram feed. As a result, Spice decided to celebrate this as well, as she posted an animated version of herself on Spongebob Squarepants, as she said "10 million followers oouuuuu. Hold on lemme cook."
Ice Spice's 10 million follower milestone on Instagram also comes after she dropped her new "Pretty Girl" single with Rema, earlier this month. The visuals were also released, as those have amassed over 5.6 million YouTube views.  Spice and Rema even performed this collaboration together on "Saturday Night Live," earlier this month, as Spice also performed "In Ha Mood."
Check out Ice Spice celebrating her reaching 10 million Instagram followers, below.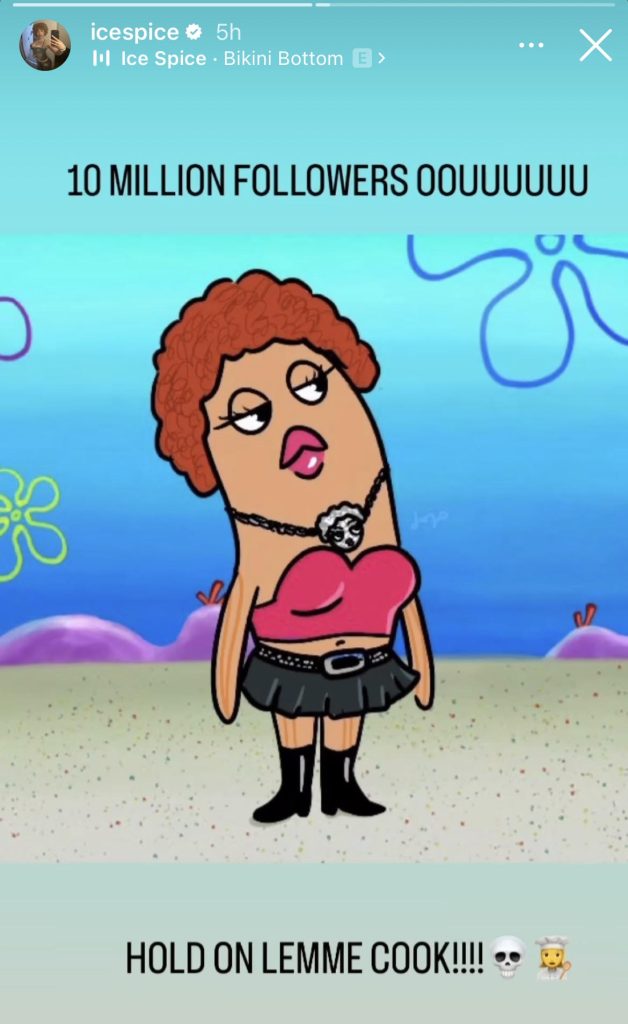 Ice Spice celebrates milestone of 10 million Instagram followers