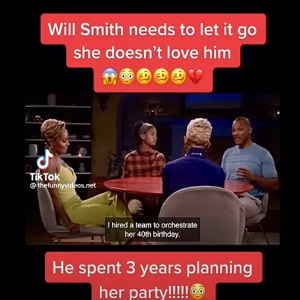 Jada Pinkett insulted Will Smith's surprise 40th birthday party for her
It seems like Will Smith had his Oscars controversy going on for much longer than just a week. By now, everybody knows what happened with Will Smith and Chris Rock. At a recent comedy show, Chris Rock broke his silence about the Will Smith fiasco. Chris Rock said he isn't ready to speak on it just yet.
Will Smith spoke on the Chris Rock incident right after it happened. When Will Smith won 'Best Actor' for King Richard, Smith opened his speech by saying "love will make you do some crazy things." Smith went onto offer an apology to Venus and Serena Williams, along with the Academy for his actions.
Several think pieces have been published since Will Smith's incident. A little over a week after Will Smith had his incident, people are saying Smith is insecure over his wife, Jada. Now, an old clip has resurfaced of Will and Jada Pinkett Smith discussing her 40th birthday party on "Red Table Talk." In the clip, Will Smith details how he spent three years preparing for Jada's 40th birthday, and the party. Will Smith then went onto detail how Jada told him he did it for his own ego.
Jada Pinkett insulted Will Smith's surprise 40th birthday party for her
https://www.tiktok.com/@thefunnyvideos.net/video/7082705737469693190?refer=embed