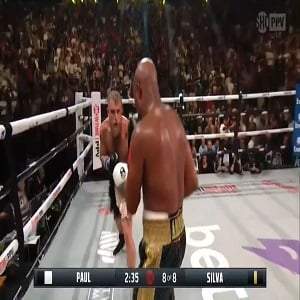 Jake Paul knocks Anderson Silva out and dominates Twitter
Jake Paul is living the life that most people dream of. After rising to fame as a YouTuber, Jake Paul got into celebrity boxing. Now, Paul is out here doing the real thing, and is now on the top card with Anderson Silva. Prior to this, Jake Paul and Floyd Mayweather had a high profile celebrity boxing beef.
Jake Paul and Floyd Mayweather had an exhibition boxing match, last spring. In order to hype things up, Paul was bragging about how he was going to beat Floyd Mayweather. Of course, it goes without saying that Floyd has been the best boxer of this generation. During his original run, Floyd Mayweather went 50-0.
Jake Paul went from doing the celebrity boxing to getting into the real thing. Paul did not take the traditional route, as he did tons of YouTube videos. However, it is clear that he has a true love for the sport. In addition, Jake Paul is not a slouch. Anyone who expected him to lose to Anderson Silva, last night, got the shock of their life. Not only did Jake Paul get the win, he delivered a knockout. As a result, Twitter has had Paul trending for days.
Jake Paul knocks Anderson Silva out and dominates Twitter
.@jakepaul sends Silva to the canvas in the final round 😮#PaulSilva pic.twitter.com/mO6Tdw4wy1

— SHOWTIME Boxing (@ShowtimeBoxing) October 30, 2022