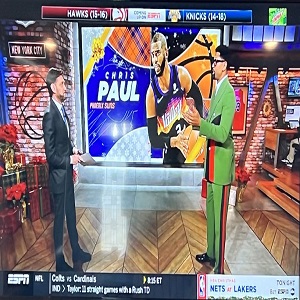 Over the years, Jalen Rose has really found his groove, as an NBA commentator. During his playing years, Rose was known for being one of the greatest playmakers of all-time. He is best-known for his run, with the Indiana Pacers, to the 2000 NBA Finals.
Jalen Rose ended up becoming a fan favorite, during his time in the league. He was a journeyman, who played alongside many of the all-time greats. But, as a commentator, fans have enjoyed getting laughs off him, over his hair and hairline.
With today being Christmas, ABC is hosting their first game of the season. Fans on Twitter have already started roasting Jalen Rose. Normally, it's his hair, but today it's his outfit, as they're saying his suit makes him look like an African security guard.