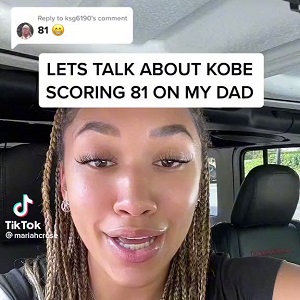 Jalen Rose's daughter talks Kobe scoring 81 points on her dad
Jalen Rose is currently best known as one of the leading voices in NBA commentary. In addition, Jalen Rose has the smoothest hairline on television. However, older sports fans know Jalen Rose best for playing for the Toronto Raptors in 2006. That is important, because Rose played for the Raptors, when Kobe Bryant scored 81 points. Rose guarded him.
Jalen Rose is known to his children as their father, nothing more nothing less. However, Jalen Rose's family has to deal with sports hecklers, just like the man himself. While Jalen Rose had a lengthy career before the Kobe game, this is how casual sports fans know him. Add to that, the trolls, and Jalen Rose's daughter caught a lot of the heckling.
Jalen Rose has a daughter and she is 21 or 22. Regardless, on TikTok, she shared a video. It turns out, she has been getting trolled throughout her time on social media. In her TikTok, the young lady said she was a Justin Bieber fan, as a child. With all of her posts being about Bieber, she said that sports trolls would comment nothing but "81" under her posts. Now, the daughter said if she was playing, she would not have taken 81. Instead, she said she would have faked an injury, or somehow gotten out of the game, once she saw Kobe Bryant going for 50.
Jalen Rose's daughter talks Kobe scoring 81 points on her dad
Twitter used to harass Jalen Rose daughter with "81" tweets lmaooo pic.twitter.com/v1tPUYcspE

— JT (@ThatDamnJosh_) August 4, 2022