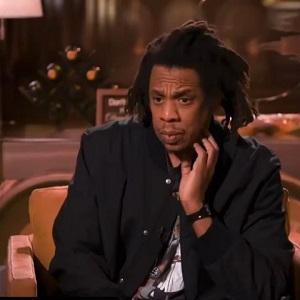 Jay-Z speaks on Kanye West and Rihanna being richer than he is
Jay-Z is one of the most inspiring figures in hip hop. From the beginning, Jay-Z was all about his business. Early in his career, Jay-Z was a co-owner of Roc-A-Fella Records, alongside Dame Dash and Kareem "Biggs" Burke. In 1999, they expanded the company into clothing with Rocawear.
Jay-Z left the partnership in 2004, which led to the departure of Dame and Biggs, that same year. As a result, Roc-A-Fella Records was sold to Def Jam. After that, Jay-Z took on the position as president of the label. The move was both inspiring and controversial.
Jay-Z shocked the hip hop world, when he decided to not renew his contract as Def Jam's president. A few months later, Jay-Z bought out his artist contract on Def Jam. As a result, Jay-Z effectively left the Roc-A-Fella Records roster, and this was the label he created. In turn, Jay-Z partnered with Live Nation to form Roc Nation. Since 2008, the company has guided the careers of Kanye West, Rihanna, J. Cole, Lil Uzi Vert, Meek Mill, and countless others.
Jay-Z recently sat down with Kevin Hart for an exclusive interview. In this latest clip, Jay-Z spoke on the goals of Roc Nation. Currently, Jay-Z has a personal net worth of $1.4 billion, meanwhile Roc Nation is worth $140 million. During the interview, Jay-Z said the goal of the company was to gather information and give to the likes of Kanye West and Rihanna. In turn, the goal was for his billion dollar company to guide them to build $7 billion companies.
Jay-Z speaks on Kanye West and Rihanna being richer than he is