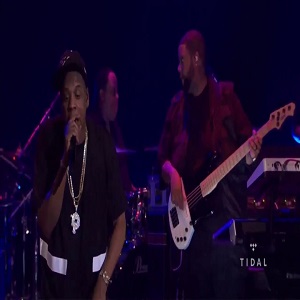 By Jay Rich
Hip-HopVibe.com Staff Writer
In 2021, Jay-Z is not only showing up on new music, he is also coming through, in the board room. The esteemed mogul got off to a strong start, in 2021, financially. His famed champagne brand Armand de Brignac, recently sold 50% of the company to Moet.
Jay-Z purchased TIDAL, back in 2015, to give artists an equity, when it comes to streaming. A few years later, Jay-Z sold a stake of TIDAL to Sprint, to $300 million. Now, he has made even more money moves, when it comes to the streaming service.
This morning, it was reported that Jay-Z sold his majority stake in TIDAL to financial services company, Square, Inc., which is owned by Twitter CEO, Jack Dorsey, and the company also owns CashApp. TIDAL will operate, independently, within the Square, Inc. company, and Jay-Z will become a member of the Square, Inc. board, being compensated with $297 million in cash and stock, while artists will continue being co-owners of the streamer.
Read the statements from Jack Dorsey and Jay-Z below:
"It comes down to one simple idea: finding new ways for artists to support their work," said Jack Dorsey, cofounder and CEO of Square. "New ideas are found at intersections, and we believe there's a compelling one between music and the economy. I knew TIDAL was something special as soon as I experienced it, and it will continue to be the best home for music, musicians, and culture."

"I said from the beginning that TIDAL was about more than just streaming music, and six years later, it has remained a platform that supports artists at every point in their careers," said Shawn "JAY-Z" Carter. "Artists deserve better tools to assist them in their creative journey. Jack and I have had many discussions about TIDAL's endless possibilities that have made me even more inspired about its future. This shared vision makes me even more excited to join the Square board. This partnership will be a game-changer for many. I look forward to all this new chapter has to offer!"
Follow Hip-HopVibe.com on Twitter @HipHopVibe1.