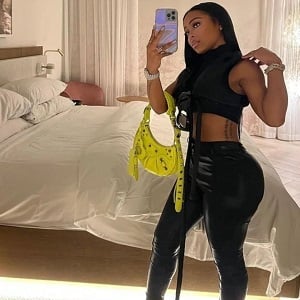 Jayda responds to Lil Baby and admits to texting another guy
This afternoon, Jayda and Lil Baby took over headlines. A lot has gone on with them and they have broken up. However, the two only got back together recently. The difference between this breakup, from the others, is that Jayda is speaking out about it.
Jayda and Lil Baby have been together, on and off, for over six years. In 2019, Jayda and Lil Baby welcomed the birth of their son, Loyal. During that time, Lil Baby said he has never been in love with anyone. It wasn't long after that, that Lil Baby and Jayda broke up.
Through Jayda and Lil Baby's relationship, Baby has infamously had relationships with other women. In her rant against Lil Baby, Jayda mentioned this. When discussing her issues with Lil Baby, Jayda revealed she did text another guy back. According to Jayda's rant, this made Lil Baby upset, and he broke up with her over this. Given all that she has been through, Jayda considered this the final straw, so she decided to end things with Lil Baby. Jayda says this breakup is permanent.
Jayda responds to Lil Baby and admits to texting another guy