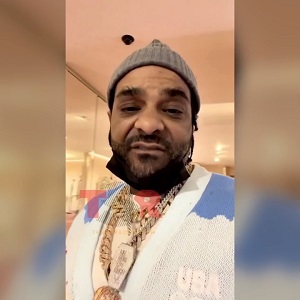 Jim Jones blasts Gucci store for racially profiling him
In many ways, Jim Jones is one of the most innovative figures in rap. While he and Cam'ron aren't currently seeing eye-to-eye, Jim Jones came up with him. His earliest recordings are features on Cam's Confessions of Fire debut album.
Years later, Jim Jones would operate as the business half of The Diplomats/Dipset's Diplomat Records. However, in 2004, Jim Jones began releasing solo albums. The world was properly introduced to Jim Jones, during the fall of 2006. This was when Jim Jones dropped "We Fly High," a song that added more flames to the simmering Jay-Z beef.
Jim Jones would be way ahead of the curve, as he didn't join "Love & Hip Hop," it was originally pitched to be his show. Now, a decade later, the franchise has saved careers and launched careers. Meanwhile, Jim Jones found a new income source with reality TV. Along the way, Jim Jones ended his beef with Jay-Z, and joined Roc Nation. Once, Jim Jones was accused of being what's wrong with hip hop, and now he's considered one of the top lyricists. Clearly, Jim Jones is a big deal, but he complained about how he was treated, in the Gucci store, saying he was racially profiled by a black man. This came as Jones was trying to spend $29,000 in the store.