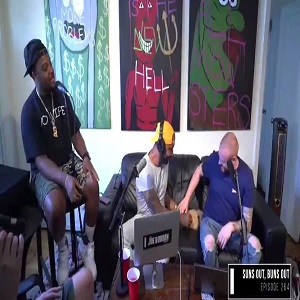 By Bossyy
Hip-HopVibe.com Staff Writer
These past few days have seen Joe Budden receiving all kinds of negative press. Recently, Joe Budden was accused by Tahiry Jose of abusing her, which he denied. Since then, audio surfaced of Cyn Santana asking Joe if he was going to drag her, again.
Joe Budden had the support of Twitter, who went in on Cyn Santana, accusing her of trying to bring Joe down. Now, there is even more against Joe Budden. Court documents have leaked, on Instagram, accusing Joe of beastiality.
Recently, Joe Budden has been accused of fondling dogs, for his own pleasure, in court documents. On top of that, Joe Budden suffered a video leak from his podcast, showing him rubbing a dog, joking about fondling the dog's privates. Now, the fans on Twitter have nothing but jokes about the rapper-turned-podcaster and dogs.
Watch the entire video and read the tweets below:
🤦🏾‍♂️Well… here's Joe Budden talking about playing with dog privates… video & audio pic.twitter.com/Ko41O71jeg

— Terrill OVO (@TerrillCharming) September 8, 2020
Follow Hip-HopVibe.com on Twitter @HipHopVibe1.