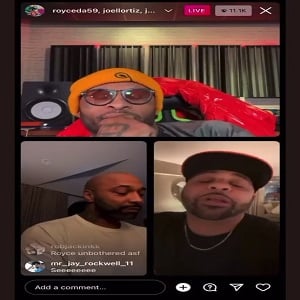 Joe Budden tells Joell Ortiz to suck his expletive in IG Live argument
In 2014, Joe Budden returned with his project, Some Love Lost. With the long awaited release, Joe Budden announced he was retiring from rap. Joe Budden was one of the first hip hop podcasters and the first rapper to have his own podcast.
Joe Budden remains an active figure in the hip hop culture and he's actually more known now. People tune into Joe Budden for his commentary on the culture. In addition to his podcast, Joe Budden has hosted on two popular shows, both of which have both ended their run.
While podcasting was a major reason Joe Budden retired, he was also disgruntled with his label situation. As a member of Slaughterhouse, Joe Budden was growing frustrated. Joe Budden was frustrated with their deal with Shady Records and frustrated with the group. Creatively, there were some issues, and Joe Budden also had his issues with the members of the group. Royce Da 5'9″ brought Joe Budden and Joell Ortiz on IG Live to discuss matters. The conversation quickly turned heated, with Joe Budden and Joell Ortiz exchanging insults about where they can stick it.
Joe Budden tells Joell Ortiz to suck his expletive in IG Live argument