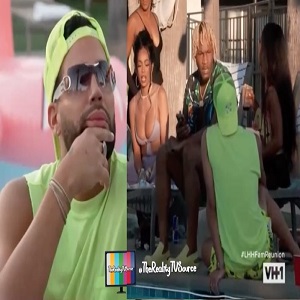 Jonathan is accused of dragging his beef with Zell Swag by viewers
For the third straight week, Jonathan Fernandez is confronting Zell Swag for telling him he was acting "too gay." This comes after Jonathan already spoke to Mimi Faust about it. In her opinion, Zell was battling something within himself.
Zell Swag was introduced, via "Love & Hip Hop Hollywood," in 2017. Openly gay, Zell often fought the women, but later said he wanted to have a family. Zell would end up with a girlfriend during the most-recent season of the "Hollywood" edition.
When Zell Swag told Jonathan he was acting "too gay," he took immediate offense. While Zell said he likes men, he said he also likes women, and said Jonathan needs to tone it down around the straight men. After Jonathan went there, AGAIN, Twitter sided with Zell and even Bobby took offense to Jonathan's pestering. He was upset with him comparing Zell's comments to racism.