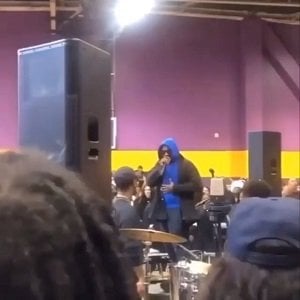 By Bossyy
Hip-HopVibe.com Staff Writer
Seeing Kanye West and Drake on opposite sides is jarring, because this is not how it began. When Drake debuted, Kanye West was the "creative" rapper in the game. This is a lane Drake also occupied, as well as Wale, during this time.
One of Drake's early hits, "Find Your Love," was actually a Kanye West production. However, with the Watch the Throne album, there was speculation of Drake actually dissing Kanye and Jay-Z. Particularly, the song, "I'm On One," was said to be a diss, his line about taking thrones.
Going a step further, Drake, without mentioning names, said that it's clear Kanye West doesn't like him, despite his denials. This was when discussing the Pusha T diss, but Drake also called Kanye West "secular." Responding at one of his events, Kanye said people should call him a Christian, but never "secular."
Watch the entire video below:
Follow Hip-HopVibe.com on Twitter @HipHopVibe1.