Key Glock announces Canada Tour
Key Glock is giving his fans in Canada an opportunity to see him hit the stage live. Earlier today, the South Memphis star announced via Instagram his Canada Tour along with all of the show dates. This is his second tour of the year, after finishing up his Glockoma 2 Tour in April. That tour featured upcoming artist Tia Corine, Muney and Jay Fizzle with special guest Big Scarr. Now, Key Glock is ready to take his talent upstate with nine new shows starting November 16th.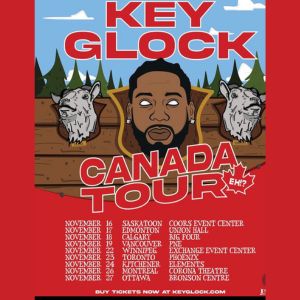 Following the release of his third studio album Glockoma 2 in late February, Key Glock has stayed consistent since the start of 2023. Dropping a deluxe edition in June, he began releasing visuals for the project throughout the summer. In July he released a video for the single "No Hook" from the album. He followed up in August with another video for a fan favorite from the album "Chromosomes." Key Glock also made a stylish feature on Detroit rapper Peezy's single "No Amiris,".
Despite announcing his new tour, Key Glock is set to perform in Atlanta Saturday October 28th at Piedmont Park. This is his last show before the tour officially starts in November. Although no guest features have been announced as of yet, Key Glock's Canada Tour is the perfect way to bring in a new season. Visit Key Glock's website for ticket sales and future dates.
Key Glock announces Canada Tour