Kid Cudi responds to Kanye West calling him out
Kanye West made headlines again this evening, on Instagram. He called out Kid Cudi, and said he won't be on his upcoming "Donda 2" album. This is due to Ye hinting that Cudi is friends with Pete Davidson, who's dating his estranged wife, Kim Kardashian.
Now, Cudi is responding to Ye, in his Instagram comments section. Cudi has no problems not being on Donda 2 at all, and strongly emphasized that.
"Too bad I don't wanna be on ur album u f*ckin dinosaur hahaha. Everyone knows I've been the best thing about your albums since I've met u. Ima pray for u brother."
As of now, Kanye hasn't responded to Cudi yet, but that can very well happen, by the end of the night. Cudi has appeared on plenty of Kanye albums in the past, but it definitely looks like that won't be the case for Donda 2. That album is currently scheduled for a February 22 release.
Kanye has also been taking shots at Pete Davidson, over the past month. On Ye's new "Eazy," single, ft. The Game, Ye rapped "God saved me from that crash, just so I can beat Pete Davidson's ass." Pete doesn't appear to be bothered by the disses. Pete's reps supposedly contacted Kanye's though, after alleged rumors of Ye saying Pets has AIDS.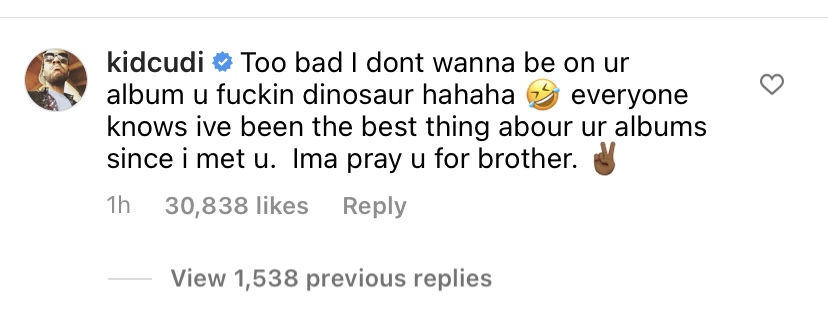 Kid Cudi responds to Kanye West calling him out