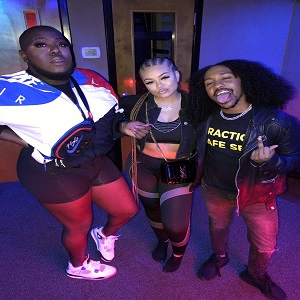 Latto denies knowing Mondaii Music after he said he wrote for her
Currently, Latto is right there on the verge of becoming a superstar. Over the past few years, Latto has been a star in the music industry. However, Latto is now getting the kinds of looks that the ladies who have ran hip hop have gotten for years.
In getting those kinds of looks, Latto is having to deal with the fallout from that. When a person begins to achieve a level of success, people will take credit for it. Latto is dealing with that, in real time. A studio session has become a trending topic today.
This afternoon, Mondaii Music shared the above photo of himself with Latto and Saucy Santana. The photo is from the recording session Saucy Santana and Latto shared for his "Up and Down" single. On Twitter, Mondaii Music claimed he wrote Latto's verse for her. Not only did Mondaii Music say that Latto didn't give him any credit for his work, he also said her entire team ghosted him. In response, Latto said she didn't even know Mondaii Music, outside of being a fan, and he offered corny bars that she ignored. Not one to back down, Mondaii Music said K. Michelle organized their meeting, via Latto's manager, and she knows the deal.
Latto denies knowing Mondaii Music after he said he wrote for her