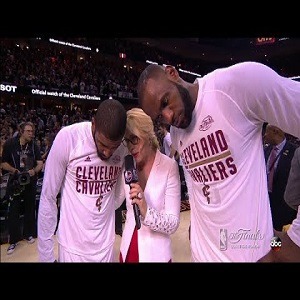 It was pretty clear, from the moment Cleveland opened Game 4 with a three-pointer, that the Cavs were going to win. So much for going 16-0 for the Golden State Warriors. After last season, though, the Dubs will be the first to say just getting to 16 is enough.
LeBron James definitely knew history was not on his side, being down 3-0 in the NBA Finals with Game 4 at home. Ten years ago, the Spurs swept the Cavaliers. Since Game 3, there was a lot of talk, too much talk, about the Warriors getting the sweep.
LeBron James and Kyrie Irving didn't let that happen in tonight's game. After their strong performance, they talked to Doris Burke. Speaking on the win, they addressed their strong play, Steph's off game, Draymond Green, and going into Oakland (San Fran) for the next game.
https://www.youtube.com/watch?v=wqR4yGTUIP0