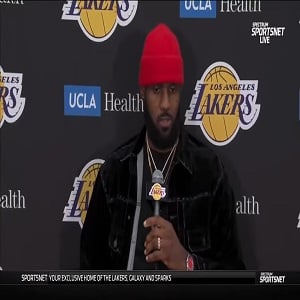 LeBron James called his play pretty sh-tty
Since joining the Lakers, LeBron James has struggled in ways he hasn't seen since his first three NBA seasons. Those early Cavs years saw only one playoff run. Despite winning the championship, LeBron has underwhelmed in his Laker run.
In 2018, LeBron James signed with the Los Angeles Lakers, which was a boost for the team. However, the West is so competitive that the playoffs weren't a guarantee. The Lakers remained a fringe playoff team, but a LeBron injury cost them the playoffs.
After a disastrous 2019 run, the Lakers retooled in 2020. The additions of Anthony Davis and Dwight Howard made them a regular season force. Of course, the season had to shut down, before returning in the bubble. The Lakers played the 2020 Finals, in the bubble in Orlando, where they defeated the Miami Heat in six games.
Last season was somewhat normal, but the Lakers had injuries slowing them down. Losing Anthony Davis saw the Lakers fall from a top seed, into the play-in. During the play-in, the Lakers defeated the Golden State Warriors, to have the seventh seed. There, they drew the Phoenix Suns, who ended their season in six games. The 2021 offseason saw the Lakers add Russell Westbrook, while bringing Dwight Howard and Rajon Rondo back.
However, LeBron James has been dealing with injuries and COVID issues. This has prevented the Lakers from having solid momentum. Last night, they played the Clippers, and lost 119-115. In the postgame conference, LeBron spoke on the Lakers' loss. He described his play as "pretty sh-tty."
LeBron James called his play pretty sh-tty